For over 20 years, I've participated in planning sessions with government agencies (mostly court planning), both as an analyst and as a facilitator. While each session has involved challenging issues, I can honestly say that each session has been a success. Part of this is due to the participation of the core planning team and the skill of the facilitators in leading the sessions. (Facilitation is both an art and a science, and must be handled by someone highly skilled in observation, communication, information-gathering, and group dynamics.) But there is something else that has underpinned every successful planning session I've ever been a part of. That something is the involvement of a wide range of stakeholders in the planning process.
A stakeholder can be defined as an "individual or group that has an interest in any decision or activity of an organization." However, too often stakeholders are seen as a bother or an afterthought. As court planning consultants, we like to flip this thinking. When we begin a strategic planning effort, one of the first questions we ask is "Who are the stakeholders?" Different messages and levels of communication can be developed for the various stakeholders based on their specific role and stake in the process. However, when it comes to the actual planning sessions, we like to err on the side of being more inclusive. We like to invite to the planning table those entities whose work either impacts, or is impacted by, the court that is engaged in the planning process.
So if you are about to undergo a strategic planning effort for your court, why should you bring stakeholders to the table? Why not just report back to them on a "need to know" basis after the decisions have been made?
Below are four critical outcomes of a successful planning session that highlight the importance of including stakeholders in the planning process.
Gather Information
The very definition of a stakeholder indicates that they have some type of vested interest in the decisions you are making. However, this interest isn't always passive, or on the receiving end. Many stakeholders have what we call a "downstream" impact – that is, their work has an impact on YOUR court. A prime example is the work law enforcement agencies and prosecutors do in bringing cases into the court system. When planning for a court project, it is important to hear from those entities whose initiatives or future plans may affect court workload. Gathering this type of information can help you make informed decisions about where to place limited court resources.
When working with courts, we ask law enforcement personnel and prosecutors key questions about their workload and initiatives. We also ask what initiatives or areas of focus they see on the horizon. Their insight is invaluable in helping the court gain a clearer sense of potential shifts in – and volume of – court workload. Equally helpful is information about hiring patterns of law enforcement agencies, or plans to open or close a law enforcement office within the court district's boundaries.
Although we specialize in court planning, the concept of information-gathering among stakeholders can apply to any business line. Years ago, we conducted strategic resource assessments for land ports of entry across the northern and southern borders. For these planning sessions, we met with transportation representatives to gather critical information on plans for highways around the port, as these infrastructure projects tend to have a large impact on border crossings in some areas. Gathering this information early in the process helps keep everyone on the same page and helps both upstream and downstream agencies plan accordingly.
During these information-gathering sessions, issues are often raised that had not been previously considered. While not all information will make its way directly into the resource plan, the awareness helps the various entities plan ahead and work collaboratively. And we have found that people appreciate being given a voice, which leads to my second point.
Build Relationships
With the frenetic pace of most workplaces, it can be rare to get decision-makers from one agency in the same room at the same time, let alone those from different agencies. This often leads to fragmentation and people at cross-purposes in making business decisions that do not connect – both within an agency and between agencies. I like to think of the planning process as a puzzle to be solved – and each organization brings several puzzle pieces to the table. Without all the pieces, the puzzle is never complete.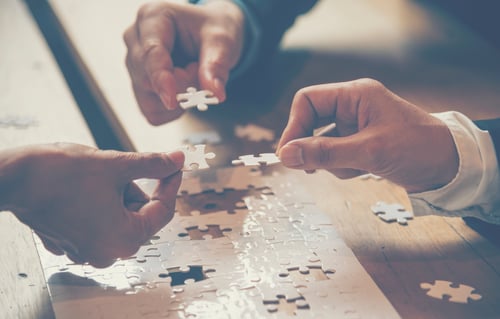 No matter how much technology and mobile work arrangements advance, face-to-face communication is still vitally important, especially when key business decisions are being made. When you invite stakeholders to the planning process, you help frame the issue as one that is of importance and interest to ALL who have a stake. This shows respect, and helps build relationships.
Using the court example again, it is important for law enforcement agencies or prosecutors to have a solid working relationship with court representatives. These entities often share space in the same building or interact with one another during the course of business. Having a positive relationship goes a long way in not only addressing the current pressing issues but in making for a more pleasant working relationship down the road. Isn't that something we all want?
Solve Problems
Positive relationships are important for another outcome that is often a byproduct of planning sessions, and that is problem-solving. We have often seen representatives from different agencies work out solutions to problems while sitting around the same table. For example, we have seen space swaps ("I didn't know you needed more space. We have an underutilized training room that we can spare.") and security solutions ("Would it be possible to move the door over there and install a camera here to resolve your security concern?") Often, the problems that get resolved are not the primary focus of the larger planning session, but by getting everyone in the same room and talking, magic happens. These smaller victories enhance the overall success of the planning session. The important thing is to be as open and transparent as appropriate, and come to the sessions with a desire to work together. If you have a problem that you are stuck in trying to resolve, perhaps consider bringing a stakeholder into the conversation. Their unique perspective may be exactly what you need.
Generate Buy-In
Not all planning sessions require buy-in from all stakeholders, but there are often key working relationships and planning sessions that benefit greatly from such buy-in. And involving stakeholders in the process helps build group consensus and promotes buy-in. When people feel heard, respected, engaged, and when they understand their stake better, this leads to acceptance. When affected organizations have advance notice about your plans and the "why" behind your plans, they are much more likely to accept and support the plans – and to not put up roadblocks. The planning sessions can also provide the forum to help stakeholders see the benefit of a particular action you plan to take (e.g., "By building a larger sallyport and relocating the cellblock, you will be able to bring larger passenger vans into a secure area with direct, secure access into the courthouse.")
Give Stakeholders a Seat at the Table
For all of the above reasons, I believe stakeholders should be given a dedicated spot at the planning table. I would actually like to suggest a slightly different twist on the definition of the word stakeholder:
stakeholder, n. "valued partner"
When we see stakeholders as valued partners who are welcome at the table, the spirit of collaboration can flourish.