The notion of a hybrid courthouse stems from the trend brought about by the COVID pandemic to design spaces that accommodate both in-person and remote work. This type of work environment has become commonplace for standard offices as technology has enabled employees to work part of the week in the office and part of the week from home.
But a courthouse presents a unique challenge because the very nature of justice requires a certain level of in-person communication. Judges and staff have traditionally relied on face-to-face interactions for most trials and other proceedings. And now that the pandemic is winding down, many court managers are wrestling with whether courts should go back to "business as usual."
I would argue that the pandemic has taught us that there is no more business as usual. Times have changed. Most employees who successfully worked from home expect to be able to do so, at least partially, in the future. Furthermore, I believe the hybrid courthouse provides many opportunities to serve the public at an even higher level, while also reducing the reliance on paper and the amount of space needed.
But to establish a successful hybrid courthouse operation, the right technology, policies, and practices must first be in place to support the three key elements of the hybrid courthouse: continued telework, videoconferencing for court proceedings, and the use of flexible and adaptable space. Let's take a look at each of these and how they help shape the hybrid courthouse model.
Continued Teleworking
Though teleworking became prevalent during the pandemic, many courts saw telework only as a stopgap measure. But I would recommend that courts not rush into bringing everyone back into the office full time. It is important to first conduct an evaluation of how well telework functioned during the pandemic before enacting a policy for a full return to the office.
A key element of this evaluation is to determine which positions are eligible for continued telework based on job duties and performance metrics. It is also important to assess whether the court and courthouse are prepared for long-term telework by having the proper technology, policies, performance management, training, and other essential processes to sustain telework.
In a hybrid courthouse, the goal is for staff to split their time between working at the courthouse and working from home. This provides several key benefits:
Improved work-life balance for employees
Retention and recruitment of employees
Reduced costs for the employees (e.g., transportation, clothing, and meals)
Reduced space needs (discussed in more detail below)
Reduced parking demands at or near the courthouse
We have worked with probation and parole offices, pretrial offices, clerk's offices, prosecution offices, defense counsel offices, and individual judges to promote a hybrid workplace. These court and related components are allowing staff to telework on a weekly basis one to three days per week, depending on the office and culture. And they have found that the work is still getting done.
While some policies and management practices must shift to accommodate telework, it's important to consider how telework can fit into the culture of your court and what changes need to be made to accommodate this here-to-stay workstyle.
Videoconferencing for Court Proceedings
There has been a lot of discussion and study during the pandemic about the viability and suitability of videoconferencing for court proceedings. It is generally accepted that trials and other complex court proceedings must be handled in person. However, there are numerous proceedings that can be performed remotely. Some of those proceedings include pretrial hearings, status review hearings, motion hearings, small claims cases, and arraignments. Not every court operates the same, so the types of proceedings that could be performed virtually vary greatly by court.
If your court desires to use videoconferencing for remote proceedings, there are two basic approaches. The first is to enable existing courtrooms with videoconferencing capabilities. This means retrofitting courtrooms with the technology and monitors needed to conduct remote proceedings in a way that is fair to both the remote parties and those in the courtroom. When adding monitors and screens to courtrooms, it is important to be mindful of sightlines in the well area and throughout the courtroom.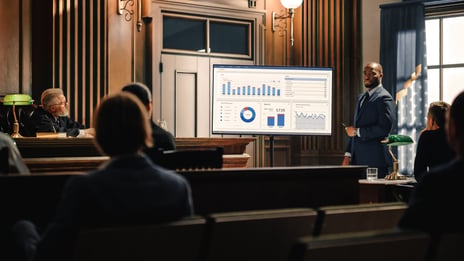 Presentation System in Courtroom
A second approach is to construct specialized spaces for videoconferencing. A videoconferencing hearing room is a space set up with the finishes of a courtroom in a much smaller space designed specifically for videoconferencing. These hearing rooms are shared by the judges and are used on an as-needed basis. I have also seen judges set up portions of their chambers/offices to conduct videoconferencing for meetings and court proceedings.
There are some jurisdictions, such as the state of Massachusetts, that have developed guidelines for hybrid courtrooms, including guidelines on how videoconferencing should be enabled in courtrooms and hearing rooms. It is important to develop such standards to ensure consistency in courtroom design.
Flexible and Adaptable Space
The final element of a hybrid courthouse is perhaps the toughest to implement, and that is modifying the space in the courthouse to reflect the new hybrid work practices. This is difficult because it forces a change in the way court personnel operate. It is easy enough to take the space in an existing courthouse, leave it as is, and implement telework and videoconferencing for proceedings. But by taking the next step – changing the space layout – a true hybrid courthouse is created.
Courtrooms
Unless you have available space to add a courtroom or enough money in the budget to outfit multiple courtrooms with videoconferencing technology, a court may decide to dedicate an existing courtroom to virtual proceedings. This would require the judges to share the courtroom and to schedule virtual proceedings around each other's workload.
It is important to consider the technologies that should be included in a shared virtual courtroom or hearing room, including room schedule panel, flat panel displays, device control interface, soundbar and accessories, presentation system, ceiling- and wall-mounted cameras, microphones, assistive listening system, and projection system. There are also security technologies that should be in a courtroom.
Equipping courtrooms with videoconferencing capabilities can enable certain proceedings to be conducted virtually or allow a mix of in-person and remote participation. This allows for maximum flexibility with courtroom space and use.
Court Component Offices
If court components allow staff to telework regularly during the week, their workstations may sit idle while they are teleworking. This presents an opportunity to shrink the space footprint, which helps better utilize the space within an existing courthouse and provides room for expansion because of the reduced need for space for each individual employee.
In a hybrid office, there are usually a limited number of offices and workstations dedicated to specific personnel. Many of the offices and workstations are shared and can be reserved when needed. To accommodate these arrangements, spaces are typically renovated to remove walls and to allow open areas that receive plenty of daylight.
Another feature of the hybrid office is a mix of spaces for both collaboration and concentration. This allows employees to collaborate when needed and to concentrate on their individual tasks when needed. A variety of spaces, such as getaway booths, huddle rooms, touchdown stations, and work cafés, are used to provide staff with multiple places to work. These spaces are organized into "neighborhoods" or zones that support a variety of work activities.
At first, personnel may be concerned that they are giving up their office or workstation. But they soon find that they gain the flexible use of an entire office where they can choose a location to work that fits their current task and mood. In addition, they have the added benefit of working from home each week, which promotes work-life balance.
Should Your Courthouse Go Hybrid?
I truly believe that the hybrid courthouse is the way of the future. It leads to the integration of technology and space in a way that best supports the administration of justice. The justice process is only going to become more technology-intensive over time, and courthouses will benefit from the flexibility and adaptability of the hybrid arrangement.
Having said that, for traditional courts that still rely on paper and use minimal technology, it will likely take some time for this transition to occur. Given the stress of the pandemic, it may be too soon to ask staff to go through another major transition. But perhaps steps could be taken now to put the technology, policies, and practices into place that will support the move to a full hybrid courthouse model in the future.
The hybrid courthouse helps increase efficiency, provides greater convenience for the public, and reduces the need for space. Now is the time for courts to consider how to take advantage of these benefits.
______________________________________________________________