We've all heard it. Sitting all day on the job puts a strain on your back and on your physical well-being. Medical professionals warn that sitting for prolonged periods, and spending too much time overall sitting during the course of your day, can lead to cardiovascular disease with risks similar to those of obesity and smoking. Even exercise may not compensate for sitting too much. In an effort to combat this, office workers today are trying to stand more. As a result, it's becoming more common to see standing desks and adjustable height desks in the modern office.
But what about professions that require staying seated? Such as a judge who sits behind the bench for several hours at a time? A judge standing at the bench throughout a proceeding – even at a bench with a height-adjustable desktop – might be a distraction to the proceeding. After all, it would be quite a novelty. I was recently in a courthouse in Texas that employed a unique solution to the problem, allowing the judge to stand behind the bench while giving the appearance of being seated.
At first glance, the bench looked like any other typical judge's bench that could accommodate a normal desk chair. However, upon closer inspection, there was a carpeted floor hatch that, when opened, revealed a rather ingenious solution.
Let me explain. The floor of the bench is typically built up from the courtroom floor, so there is usually hollow space between the bench floor and the building floor. In this case, a box was built into that hollow space under the floor hatch, with the floor of the box approximately 12" lower than the bench floor. The judge stands on this lower floor.
With this "standing floor" (as I'll call it) being 12" below the normal bench floor, the bench's desktop, which is 30" above the normal bench floor, would be 42" above the standing floor. The recommended height for a standing desk for a person who is 5'-11" would be approximately 44 inches. So this 42" standing desk nicely fits the rule of thumb for an average-height person.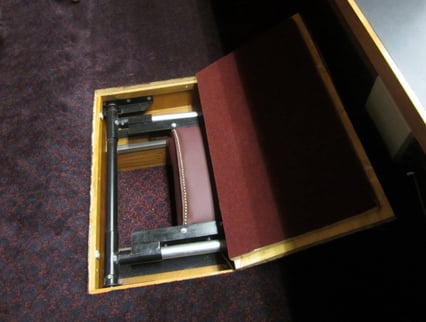 Floor Hatch Behind Judge's Bench
However, as you can see from these photos, the designers of this standing bench had another trick up their collective sleeve. Folded down within the box was a seat back. This seat back unfolded out of the box and locked into position, providing two things to the judge: (1) a method of support while leaning back to relieve some strain on the feet, and (2) the illusion that a traditional chair is being used. Upon casual view, anyone in the courtroom would think the judge was sitting in a chair behind the bench.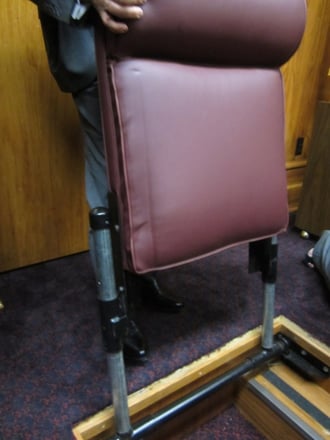 Unfolded Seat Back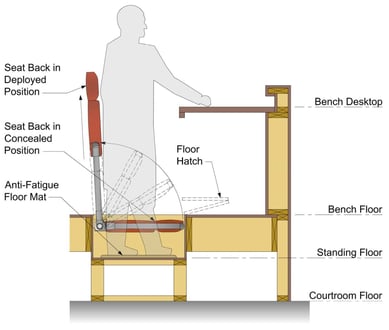 Side View of Standing Judge's Bench
The Benefits of Standing? It's a Mixed Verdict
While standing poses great benefits over sitting, there can still be problems associated with standing in one place for long periods of time, as a judge may have to do. Some experts say that engaging in micromovements with your legs and feet while standing can alleviate these issues by promoting blood flow. The judge using this standing bench is certainly able to relieve some leg and back stress by leaning on the seat back, but I think a padded anti-fatigue floor mat could be incorporated into the design to allow the judge to discreetly do some of those beneficial micromovements.
The standing desk revolution is still evolving, as are the best ways to minimize the health risks of being sedentary. This particular clever design provides the judge with flexibility on whether to sit or stand. The ease with which this standing bench can be quickly deployed or tucked away during court recesses provides the opportunity for both sitting and standing. I believe this solution – along with my ingenious anti-fatigue floor mat concept – will soon be popping up in courtrooms around the country.
____________________________________________________________
Click the image below to download a copy of our courtrooms and chambers eBook