Just walking through a courthouse can be a stressful experience for a visitor. Whether being called as a witness or to serve on a jury, or just picking up documents from the clerk's office, the serious nature of a courthouse can be intimidating. This article focuses on the steps that can be taken by architects and courthouse planners to ensure that public hallways create a welcoming positive impression for the visitor and are user-friendly during the courthouse planning process.
The Elements of User-friendly Public Circulation
As a courthouse architect and planner, I inspect courthouses on a regular basis. I know typical courthouse layouts like the back of my hand. However, one courthouse I visited in Oklahoma proved to be a challenging exception.
In trying to find the courtroom on the second floor, I found myself walking down a narrow, windowless hallway that led to a dead-end…several times. I finally gave up and asked one of the court security officers to help me out. We went back upstairs, walked down the same hallway, passed through an unmarked door, and entered another hallway that provided access to the courtroom. He commented "You just have to know the secret."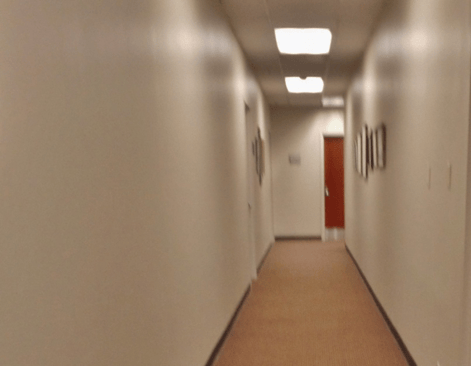 The Secret Passage
The function of the courthouse circulation system for the public is to allow visitors to gain access to multiple courthouse components such as the jury assembly area, clerk's office, and courtrooms – without having to know a secret. And to safely separate public circulation from circulation paths used by judges and those used to escort prisoners.
Ideally, the public circulation system should also provide spacious and bright pathways to counteract the potentially intimidating character of a courthouse.
So, what are the desirable attributes of a user-friendly courthouse circulation system for the public? Let's examine each of these attributes one at a time.
Security
Separation of circulation, both vertically and horizontally, is one of the more important aspects of a well-functioning courthouse. But it is also one of the most difficult to achieve, particularly in an older courthouse. An architectural design that completely isolates prisoner movement from the public, as shown in the following diagram, is unquestionably the most desirable solution.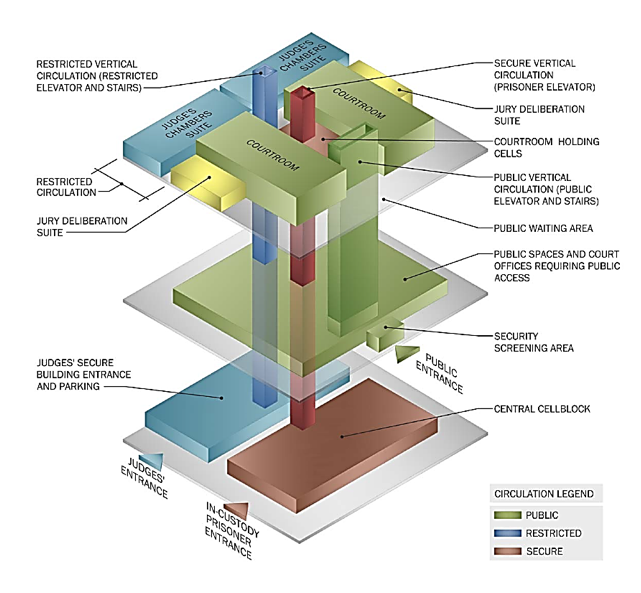 Separation of Public and Prisoner Circulation
However, in older courthouses, separate access can rarely be established through architectural means alone. In these situations, it may be necessary for court security personnel to manually and electronically control circulation. The optimal solution is usually a combination of sound architectural design with the support of court security personnel and electronic controls to ensure security in the courthouse.
Organization
A courthouse should have a logical progression of components. The layout should place publicly accessible court components near the entrance lobby, close to public elevators, and/or on lower floors (in multi-story facilities). For example, the clerk's office and jury assembly area should ideally be located on the first floor near the lobby, as shown in the following stacking diagram. Courtrooms can often be placed on higher floors since they do not receive a continual flow of public traffic.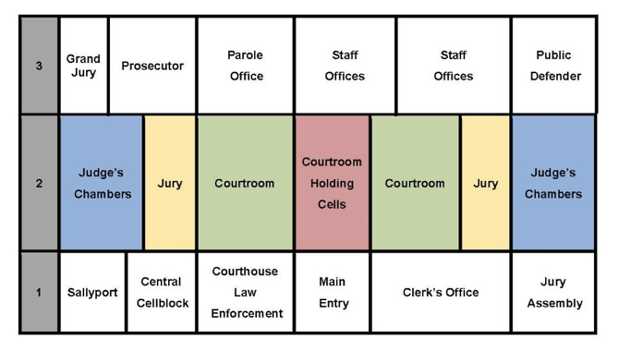 Typical Stacking of Court Components
Hallways should provide generally straight paths from the entrance or from elevators to all courtrooms and other public destinations. This is not the time to create a maze challenge to get from point A to point B. Visitors to courthouses are often experiencing a high level of anxiety, and there should be a logical progression of spaces to help ease anxiety and to help visitors feel more at ease finding their destination.
Orientation
Providing a light, bright entrance that acts as a focal point can also help the visitor better comprehend the organization of the building. Being able to see portions of the upper floors from a multi-story entrance lobby can allow the visitor to gain a sense of his or her whereabouts and destination in the courthouse. A set of stairs or an escalator from the entrance lobby to the second floor, as shown below, can also add a welcoming visual progression.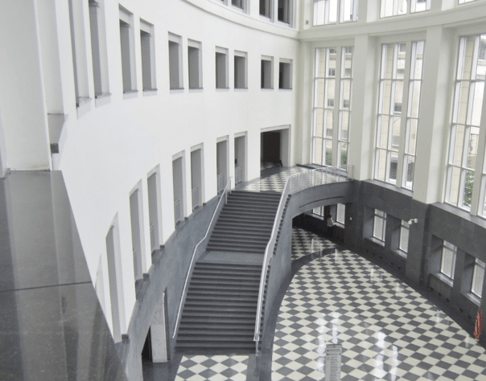 Providing Visual Orientation
Signage
Entrance lobby kiosks and interactive screens are critical in orienting the visitor to the layout of the building. They direct the public to their destinations and contain directories of all public spaces in the building. They often display the schedule of daily court proceedings, as shown below. Consistent signage throughout the building helps visitors find where they need to go.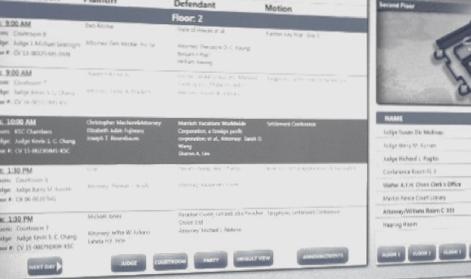 Hallway Court Proceedings Directory
Character
In many courthouses, public circulation occurs in interior hallways that provide little in the way of visual reference. More user-friendly designs provide public circulation in wide hallways with natural light and views of the entrance lobby and the surrounding community. Bright and comfortable waiting areas outside courtrooms, such as the one depicted below, further enhance the visitor's experience. Such spaces not only accommodate the public, but also help create a calming and peaceful environment.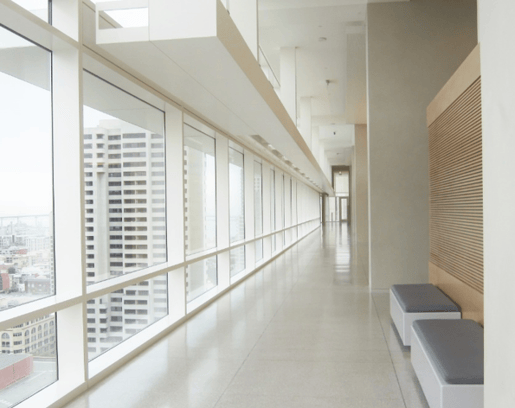 Courtroom Waiting Area
There is no Secret to User-friendly Circulation
The Oklahoma courthouse I visited several years ago was obviously lacking in many of the attributes described above. I am not usually intimidated by the experience of being in a courthouse, but I can certainly imagine how stressful this would have been for a first-time visitor involved in the courtroom proceedings. Bottom line: if you want to create a user-friendly courthouse, don't make your hallways secret passages.