In my last article on planning for mobile offices, I presented an example office layout for collaborative employees. In this third and final piece in the series, I will review the principal furniture and facilities needed for employees who often work remotely or away from their main office. This article focuses on the facilities these employees need in the main office.
As listed in the Facilities Matrix in my previous Programming Mobile Office Facilities article, the touchdown station is the principal furniture and facilities element needed for this work practice style. This type of furniture is required to accommodate employees that spend much of their time outside the office.
Since the time spent at an individual desk is minimal, the touchdown station can be relatively small, typically 3 to 4 feet wide. It is not generally supplied with telephone or computer connections since employees in this category would be expected to use smartphones and laptops or tablets. Low partitions that enhance visual and acoustic privacy are often, but only sometimes, provided between touchdown stations.
This type of furniture would be provided on a 1:5 ratio; one touchdown station for every five employees that work remotely from the main office. Of the three work practice categories, this requires the least space and furniture.
The following layout and illustration depict examples of a typical touchdown station area for this work practice type when applied to 30 staff members. This layout includes six shared touchdown stations. As described in my previous post, the touchdown station area is equipped with personal storage units behind the desks for temporary storage while an employee is in the office. Informal lounge seating is also provided nearby where an employee or small groups of employees can relax or work informally as an alternative to sitting at a desk.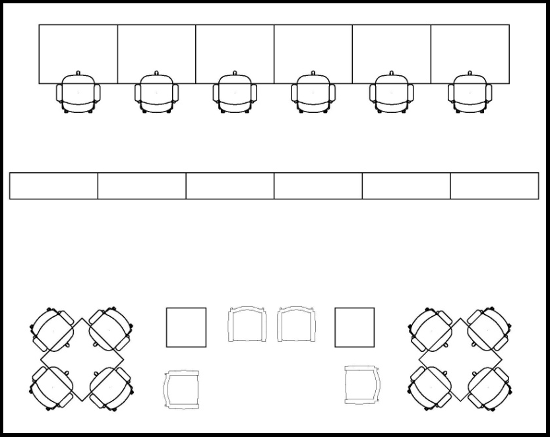 In my next series on planning for mobile offices, I'll examine the interplay between mobile office design and office occupants' needs based on demographics and basic human needs.