In my last mobile workplace article Programming Mobile Office Facilities, I presented example furniture and facilities neighborhood groups for the three predominant work practice styles that I first discussed in Mobile Office Work Practices. These example neighborhood groups included both the principal furniture and facilities needed to support this work practice style, as well as the ancillary and support facilities normally present in this type of arrangement. In this, and the following two articles, I will focus in on the principal furniture and facilities components that support and typify each work practice style.
Again, I'll begin with employees that predominantly work individually or with others in a dedicated workspace. As listed in the Facilities Matrix, the principal furniture and facility elements needed for this type of work practice are enclosed offices and open workstations. This type of furniture and facility is required to provide both acoustic and visual privacy for an employee spending the majority of his or her time intensely focused on the assigned task. For open workstations, privacy partitions should be no less than six feet tall and provided with glass at the top to allow light to penetrate the workstation.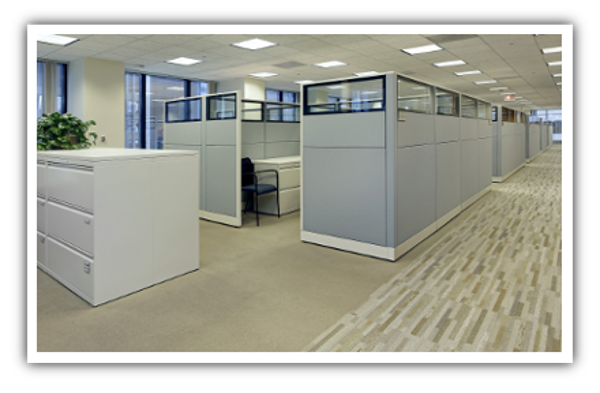 Normally, a land-line phone and a desk-top computer arrangement – often with multiple screens – would be provided. A desk or work surface and file storage are also supplied. Since staff members in this work practice principally remain in their office, a guest chair(s) and telephone/video conferencing capabilities would frequently be included. As implied by the term "dedicated" this type of furniture or facility would be provided on a 1:1 ratio; one workstation for each employee. Of the three work practice categories, this category requires furniture and facilities that are the most similar to those previously provided in a traditional office.
The following layout and illustration depict examples of a typical assigned workstation layout for this work practice type when applied to 30 staff members. This layout includes 30 open workstations that allow for individual work that requires concentration. The workstations are also supplemented with extra chairs for small meetings and individual storage. The overall neighborhood also has two areas for file storage and two small and formal conferencing areas.
8' X 8' Workstations for 30 Staff Members - Furniture and Facilities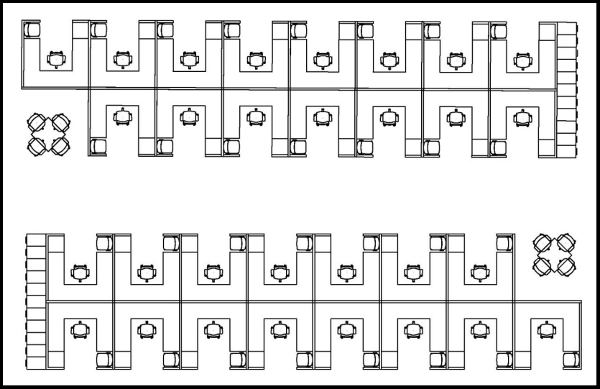 Next, I'll look at the furniture and facilities required for employees that predominantly work in small groups or larger teams in multiple locations within the organization.