Like many Americans, you may have found yourself thrust into the role of home office worker during the pandemic. If so, you likely figured out how to be productive working at home with a whirlwind of activity swirling around you. Conference calls in the closet. Zoom attire that looks perfectly lovely…on the top. We've all been there. But as the vaccine is becoming more available and we begin to emerge from the pandemic, your workplace may be embracing the hybrid office - a business model that combines remote work with office work. This is a new concept for many and will require employees to shift gears once again and learn how to maximize productivity in both in the workplace and the home office. Read on for a few pointers.
Plan Ahead

Unlike days of past when you commuted to an office each day regardless of the type of work you had on your plate, you can maximize your time in both the workplace and the home office by putting some thought into how your week will unfold. Consider planning your week so that your time spent in each location is purpose driven.
Time in the Workplace. Plan to go into the workplace to conduct in-person collaboration, training, presentations, internal or external meetings, or to use equipment and technologies that can't be accessed remotely. Your manager may wish to have your entire team in the office on certain days to promote face-to-face collaboration and innovation, so this may need to be taken into consideration as well. Although some forces are out of our control, do your best to consolidate activities that require you to be in the workplace into a limited number of days each week. This may make for a full schedule on days you're in the workplace, but will allow you to maximize the use of your time there.
Time in the Home Office. To the extent you are able, try to plan your focused, heads-down work on days you'll be working from your home office. This could include report writing, analysis, or crunching on a deadline. Also try to schedule meetings that can be held over videoconference and telephone calls on days when you'll be working in your home office.
Focused work, Zooms, and teleconferences are best performed in a quiet space with minimal distractions. While you may have been making do with whatever space you have available in your home during the height of the pandemic, it's ideal to have a dedicated home office with a door that can close so you can have privacy from other household members. If you're still competing with your spouse and kids for workspace in your home, do your best to set up shop in an area where you will have the fewest interruptions. Also be sure to establish other boundaries such as maintaining dedicated home office equipment and establishing regular office hours where you're available to coworkers and clients for communications.
Try your best to schedule your days in the home office to best align with your personal commitments. Lunchtime dentist appointment? Early soccer practice? No problem. Working from a home office on days when personal commitments can bleed into the work day can provide a bit more flexibility when it comes to balancing work with personal life. This will also help "protect' the days you spend in the workplace so there won't be a need to cut out early to attend to personal business.
Embrace Essential Applications
The number of useful workplace applications available today is astounding. Some of these apps support basic functions (calendars, to-do lists, videoconferencing), others are clever and innovative (content management, employee engagement), while still others are downright brilliant (like Slack for its contribution to inbox zero). But with so many options available and more being rolled out all the time, finding the essential apps that will really help your organization and support a hybrid workforce can be a daunting and time-consuming task.
I work for a technology-forward company, so we've tested a wide range of applications to increase productivity (and we have certainly left a trail of apps that we tried and discarded along the way). Here are a few apps we can't live without:
Content repository – Box

Project management and task lists – Asana

Videoconferencing – Zoom

Team communication – Slack

Employee recognition and incentives – Bonusly

Status reports, performance reviews, and employee feedback – 15Five
It's critical for companies with a hybrid workforce to have easy and effective ways to work and communicate regardless of where employees are working. This could be a great time to test out some new tools and find ones that work well for your team.
Ditch the Paper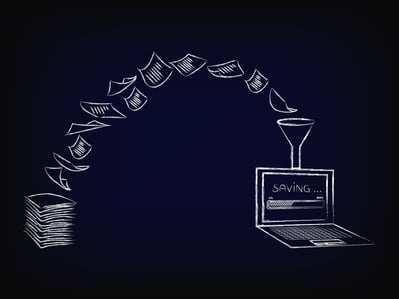 One fundamental change in how we work can help any hybrid office worker thrive: release your hold on paper. We all might have rationalizations for holding on to papers "just in case."
Just in case the client asks a question about the project two years later

Just in case an old task resurfaces (you know – those projects that lose steam and then suddenly reappear the moment you toss the paper)

Just in case those papers contain life or death pieces of information
For many of us, there is no need to hoard most of those papers – papers that take up valuable space and may be forgotten when transitioning back and forth between the workplace and home office. Nowadays, we have an alternative to paper clutter. The Cloud is a place we can store and share the vast majority of our files. Sure, we still print some things and take handwritten notes, but those are the exceptions these days, not the rule. So if you haven't ditched the paper already, working under the hybrid office model presents you with the perfect opportunity to do so.
Above All, Be Flexible

It's certainly ideal to plan ahead when working in a hybrid office so you can be in the optimal location to perform your work each day. However, this needs to be tempered with the reality that we're not always in control of our schedule. Let's face it – time that we set aside for a specific purpose at work is sometimes hijacked, requiring us to shift gears on the fly. So while it's important to plan ahead, recognize that plans can change. Try to be as flexible and adaptable as possible as you navigate the new terrain of the hybrid office. With a mix of careful planning and flexibility, you may find the hybrid office provides you with the best of both worlds.
______________________________________________________________
Your blog post content here…