If nothing else, 2020 has been a year that has required great flexibility. We have seen many industries adapt to restrictions brought on by the COVID-19 pandemic. From restaurants to doctors' offices to big business, most have had to change their physical space or their way of delivering services to promote social distancing and to protect employees and customers. The same is true of courtroom planning.
As court consultants, we have been promoting flexibility within the courthouse for many years. One specific blog published last year by a coworker comes to mind. I thought it would be interesting to revisit that blog in light of recent events to see how the design solutions hold up in light of the COVID pandemic. (Excerpts from the original 2019 blog appear in bold below, and my updated text appears in italics throughout this blog.)
Flexibility is Key in a Courtroom
Making sure a courtroom layout provides sufficient space for each type of user is critical. The courtroom is the location where three separate circulation zones intersect: public circulation for spectators, family members, and litigators; restricted circulation for the judges, court staff, and jury; and secure circulation for prisoners. A courtroom needs an adequate amount of space for these zones to fully support court proceedings and to ensure the safety of all participants.
What can be done when the ideal amount of space does not exist, or if changing needs of various court proceedings require various layouts?
COVID-19 Update: COVID is a perfect example of how quickly and significantly the space needs of a courtroom can shift. At the time this blog was written, COVID-19 was an unknown threat and certainly was not on my coworker's mind. But his premise was spot on - that courtrooms should be designed to provide maximum flexibility as needs change. It is simply not possible to predict all the demands that may be placed upon a court, thus flexibility is key.
Fitting a Courtroom into a Small Existing

Space
A common challenge when undergoing major renovation projects in existing courthouses is designing a functional courtroom in tight or poorly configured space. We often refer to this as "shoehorning" a courtroom into the space. In many cases, adequate space cannot be found to construct a courtroom that meets full design standards. Other common issues include narrowly spaced or irregular perimeter walls and/or column spans that are too short.
COVID-19 Update: We have found a practical use to consider for spaces that are too small to serve as fully functional courtrooms. Rather than shoehorning all the elements of a full courtroom into tight space, the small space can be adapted to serve as a videoconference room for court proceedings instead. During COVID, we encountered some courts that had smaller spaces (i.e., hearing rooms and conference rooms) that they were able to outfit with videoconferencing equipment relatively easily. These spaces were then dedicated for video arraignments and initial appearances.
Most judges, attorneys, and law enforcement officials – even those who were initially skeptical of videoconference proceedings – have found that this arrangement works well. Video proceedings save time and manpower, and also keep the participants socially distant. Having a dedicated space for video proceedings, and embracing the use of video to the extent possible, helps cut down on the overall traffic in the courthouse too – which has certainly been beneficial during COVID. And during COVID, the continuity provided by the video proceedings has helped reduce the backlog in some courts, which will benefit these courts greatly when back to full operations in 2021 or beyond.
If you are planning to renovate a courthouse, think about how you can utilize spaces such as an undersized courtroom. Courtrooms located in smaller spaces should be outfitted with video capabilities so that they can be used for video proceedings as a matter of course. If nothing else, having the infrastructure in place allows the court more flexibility to hold court proceedings by video should the need arise.
Movable Courtroom Furniture and Fixtures
Let's consider courtroom furniture and fixtures. In most traditional courtrooms, much of the courtroom furniture – such as the judge's bench, jury box, witness stand, railing, and spectator seating – is fixed. In these cases, only the movable pieces (which are often limited to the attorney tables/chairs, lectern, and evidence presentation equipment) can be rearranged to support the proceeding. In an undersized courtroom, fixed courtroom furniture can limit the functionality of court proceedings. By contrast, when freestanding courtroom furniture is used, the furniture throughout the courtroom can be "tightened up" to make room for adequate circulation and to fit the proceeding as needed. In some cases, reducing the size of some furniture components, such as attorney tables or the lectern, can also help free up space. I have [also] seen jury boxes and witness stands that can be reduced in size or removed from the courtroom to fit the proceeding.
I was recently impressed by an innovative effort to use a freestanding and movable courtroom component in lieu of fixed furniture in a courthouse in Virginia. As shown in the photo above, a freestanding velvet rope supported by cast aluminum stanchions replaces the traditional fixed wood rail that generally separates the spectator area from the well. This design allows the barrier to be moved to create more space in the well or more seating for spectators as needed. Combined with freestanding spectator seating that can be easily repositioned, the courtroom can be quickly reconfigured to accommodate the unique needs of a particular proceeding.
COVID-19 Update: By incorporating flexible furniture and fixtures, courts have been able to accommodate social distancing. I have encountered instances where spectators were moved to another courtroom to observe the proceedings by video, and the attorney tables were moved into part of the spectator area so that they could be appropriately distanced. The jury box seating was then expanded into the well area to provide 6'-0" of separation between jurors. Courts with movable, rather than fixed, furniture (e.g., attorney tables, spectator rail, and gallery seating) were able to easily move and position the furniture to satisfy social distancing requirements. Once the need for social distancing is reduced, or a new need arises, the courtroom can be easily reconfigured to meet any need as it arises.
Movable Wall for Flexibility of Size
I recently observed another innovative idea in courtroom flexibility when I visited a courthouse in California. The wall of the courtroom behind the spectator area was a folding movable partition. When the partition was closed, it separated the courtroom from the public waiting area. However, when the court required additional spectator seating, the partition could be opened and chairs could be added, allowing the waiting area to become part of the spectator seating.
COVID-19 Update : While this concept was promoted to accommodate more people in the courtroom for events such as naturalization ceremonies, it also allows for the opposite goal to be achieved. A movable wall in the courtroom provides extra space to appropriately separate spectators. Courthouse planners should consider providing at least one of these types of configurations in larger courthouses if space is available. The courtroom can be utilized as a multi-purpose space, or even as a jury assembly area, when not being used to expand the courtroom footprint.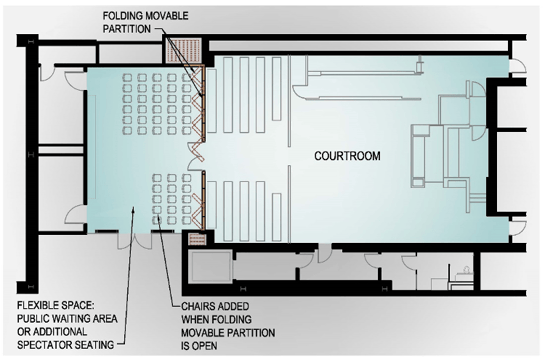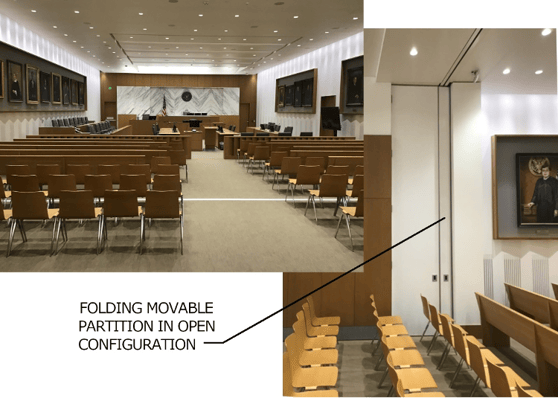 Make Flexibility a Top Design Consideration
Having flexibility in your courtroom layout can help solve some issues that go with trying to fit court proceedings around a courtroom that lacks enough space or proper proportions. Even beyond that, the ever-changing needs of various court proceedings of differing size and scope could potentially be accommodated by some or all of the strategies discussed here. One thing is for certain – the more flexibility your courtroom has, the more prepared you will be for any demands placed on it now or in the future.
COVID-19 Update : Who would have thought that the future would come so soon! COVID-19 has placed demands on buildings that could not have been dreamed about only a year ago. However, courts that have implemented design strategies allowing for flexibility within spaces have seemingly fared better at adapting to the demands the pandemic has placed upon them. Practices that courthouse planners have been suggesting for the past few years, such as increased use of video proceedings and flexible, multi-use courtrooms, have come to the forefront during the last few months as solutions that have helped courts continue their operations during the crisis.
Perhaps most importantly, courts are taking a step back from ingrained methodologies and realizing that flexibility – both within their physical space and as part of their standard operations - will allow them to more readily adapt to unforeseen conditions. For example, every court I have been in contact with since this pandemic emerged has placed a much higher priority on IT services than in the past. Operational practices such as e-filing, electronic payments, and remote work infrastructure are also being prioritized. These shifts, in addition to providing some of the flexible design strategies mentioned above, can help the court stay connected to the public and ready to adapt to almost any situation that impacts the use of the courthouse. As a court planner, I consider this a very positive development…because who knows what the future holds!