If you are planning a new courthouse, inevitably the discussion will turn to where you should provide dedicated parking for judges, law enforcement, and other court-related executive staff (e.g., department heads). Let's look at two best practices for courthouse parking and the differences between each one.
Secure Parking
Most new courthouses constructed in the U.S. have a secure parking garage on the basement or 1st floor. This is especially true in urban settings where the site boundaries are typically more constrained and providing on-site parking would be difficult. The garage would be entered via a card reader through a roll-up door and would be completely concealed from outside view. The area assigned to judges and department heads should be near a dedicated staff entrance that provides direct access to a restricted circulation path within the courthouse. Similarly, the area used by law enforcement – either for prisoner drop off or fleet vehicles - should be near a dedicated entrance that provides direct access to the secure corridor used for prisoner movement within the courthouse.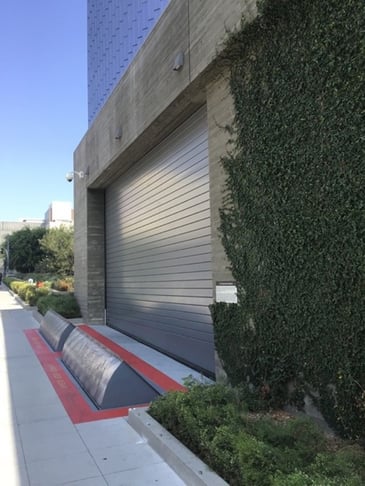 Secure parking entrance
Restricted Parking
As an alternative, particularly in rural areas or if space constraints exist within the building, a restricted surface parking lot adjacent to the courthouse can be provided. Typically, this area would be entered via a card reader that would activate a gate at the entry drive. Often, a restricted parking area will have a low height wall or a fence (5'-0" to 8'-0" high) surrounding it to help conceal the cars parked within the area. Like the secure parking garage, judges' and law enforcement parking areas should be near the restricted judges' entrance and secure prisoner movement corridor, respectively.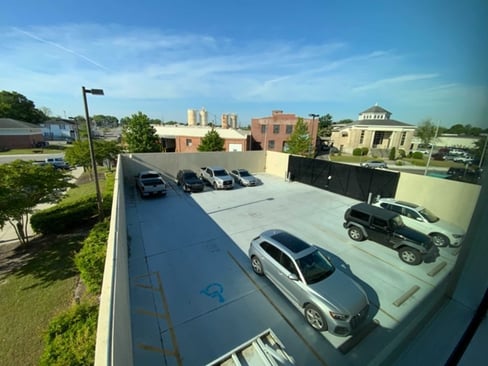 Restricted parking area with wall enclosure
What's the difference?
You may have noticed these areas are termed differently. Because of its exposed nature, a surface lot cannot be fully secured and is therefore referred to as a "restricted" parking area. However, an underground or enclosed parking garage can be fully secured and is considered a "secure" parking garage.
What's the best choice?
Several factors need to be studied when choosing the best option for parking at your courthouse. Budget, site constraints, number of judges and staff that require dedicated parking, types of proceedings held at the courthouse, and the danger associated with the surrounding area are just a few things that need to be considered. If you can afford it, I typically recommend that a secure parking garage be provided at the basement level of the courthouse. However, the following pros and cons of each scenario might be helpful as you plan your courthouse parking.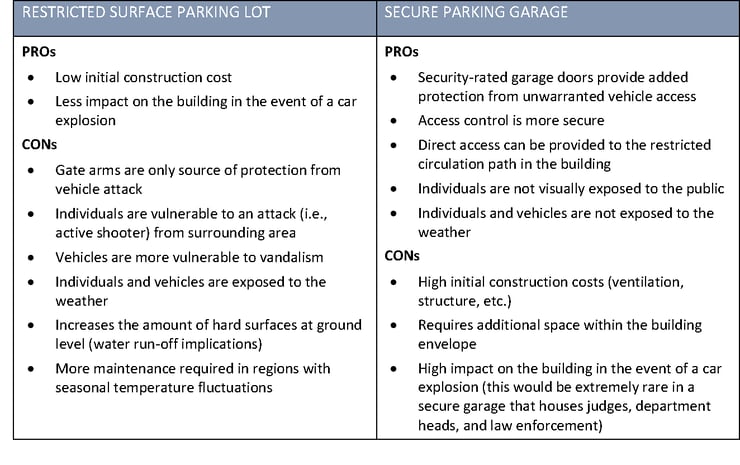 Those who administer justice serve an important and necessary role in society and are often subject to threat of physical harm. When faced with choosing an option for parking, your top priority should be the safety of those utilizing the area.
______________________________________________________________________________________________
Click on the image below to download our guide on courthouse security.