With the rise in the popularity of trendy open offices, you may feel like you're on the bleeding edge of the latest architectural style that will disappear as soon as another idea comes along. But the open office design isn't a new concept at all. In fact, it's been around for over a century.
It all started with the expansion of industrialism in the early 20th century, when many companies in both the manufacturing and white collar service sectors began to focus on speeding up productivity at work. The open office plan was both the fuel and the vehicle for change.
Scientific management for workplace efficiency was in full swing beginning in the 1920s, with every action, job, or task compartmentalized into simple segments, which could be easily analyzed and taught. This approach to office work advocated open floor plans rather than the small, separated rooms commonly in use at the time.
Since that time, architects and interior designers have tackled the productivity challenge with varied approaches to an open office design. Most tried to solve the persistent problem of how to balance the need for quiet and privacy with collaboration and communication. Now, well into the 21st century, the history of the open office provides us with insight for creating a more successful and balanced open office approach in today's business environment. Let's take a look.
1903 – Larkin Administrative Building
The open office floor plan made a grand entrance in Buffalo, NY. Designed by Frank Lloyd Wright in 1903, the Larkin Administrative Building for the Larkin Soap Company was the architect's first independent, large-scale commercial building project. A central open space on the first floor of a five-story light well in the center of the building housed clerical workers processing mail orders for soap and groceries. Many consider the Larkin the first modern office building.
Wright himself designed the first "system" office furniture for the building - long tables acting as desks for three people on each side, with built-in cabinets and chairs. Plenty of space for collaboration, but essentially no privacy.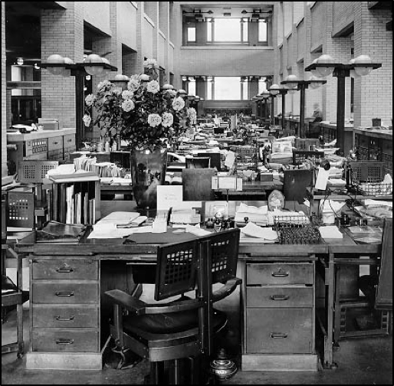 Larkin Administration Building – Collaboration, but No Privacy
1933 – The Great Workroom, Johnson Wax Administration Building
Thirty years later, Wright went on to design the Johnson Wax Administration Building in Racine, WI, for the floor and furniture wax giant. Wright created "The Great Workroom" as an attempt to create an improved open office environment.
The Great Workroom occupied the first floor of the Administration Building. It spanned a half acre and could house 200 employees in a division-free environment bathed in diffused natural light. Wright designed curved desks for individual workers to fill the work floor. Mezzanine balconies provided office space for administrators to easily view the sea of clerks and salespeople below – to literally oversee employees from above. A little more personal space, but less collaboration. And certainly very little trust.
1953 – Lever House
Through the 1950s, open offices grew in feasibility and popularity thanks to air conditioning (no need for operable windows). Work areas could be placed anywhere within a building. Think Mad Men.
One architecturally significant example of this approach is Lever House, a New York City glass-box skyscraper built in 1952 for the British soap company. It featured a 24-story blue-green glass wall, which formed fixed floor-to-ceiling windows in offices. Tenants in the building took advantage of the abundance of light and lack of opaque structural walls to install rows of desks next to the windows. They also added translucent dividers to provide some division of spaces while still allowing for natural light in the interior-most areas occupied by offices.
The office layout structure consisted of clerical staff in open pools, managers in interior offices, and executives on another floor. A pleasant environment, but not much privacy and certainly no collaboration.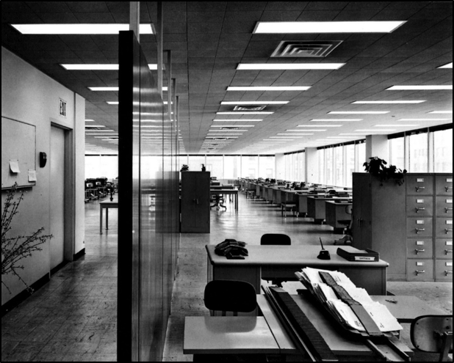 Lever House Open Office – Pleasant Atmosphere, No Collaboration
1960s – Burolandschaft Office Landscape
The open office examples from the 1950s frequently consisted of many identical rows of desks or long tables where clerks, typists, or engineers performed repetitive functions. This layout was rooted in the work of industrial engineers and efficiency experts. In an attempt to combat this assembly line layout, Burolandschaft, which literally translates to "Office Landscape," was developed.
This office landscaping approach to space planning was pioneered in Germany in the 1960s, intended to provide a more collaborative and humane work environment. Furniture was scattered in large, loosely divided spaces within different environments featuring the creative use of partitions and plants, along with an irregular geometry and organic circulation patterns to enhance the egalitarian nature of the plan.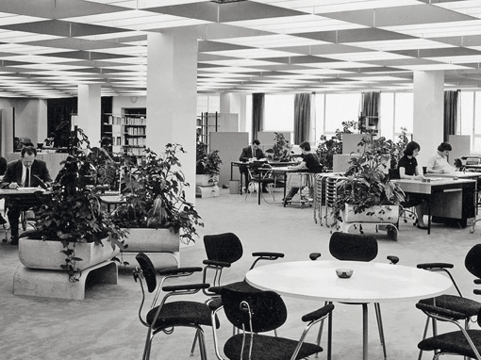 Office Landscaping – Collaboration and a Pleasant Environment
Late 1960s – Herman Miller and the Action Office – The Cubicle is Born
Office furniture companies began to develop panel-hung systems and other types of modular furniture to mimic some of the advantages of the Burolandschaft open office landscape, but with slightly greater privacy built into its structure. Initially, the layouts typical of these systems imitated the irregular, organic forms of Burolandschaft.
Furniture design company Herman Miller pioneered the modern rectangular open office cubicle in the mid-1960s with the introduction of its Action Office line. It was intended to free the average worker from sitting in the same place all day. Studies by Herman Miller furniture designers showed that a completely open office environment reduced communication due to the sameness of the offices. In addition, hours of sitting in one position could be detrimental to the body.
As a result of these studies, furniture designers concluded that office workers required both privacy and interaction. The Action Office system was an attempt to provide this balance of privacy and interaction. It included interlocking walls, a sitting desk, and a standing desk, and was accompanied by shelves of varied heights and variable placement. Tack boards and pushpin partition walls allowed for personalization. Under constant redesign, Action Office is still sold by Herman Miller.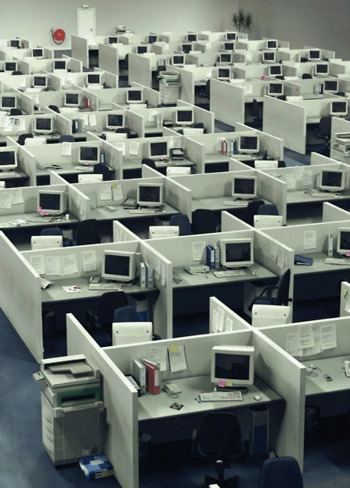 Cubicle Farm
Other office furniture companies began to produce lower priced knock-offs of the system, and sales began to soar. By the 1980s, as middle management and corporate jobs increased, "cubicle farms" – open rooms filled with cubicles – dominated corporate America. Not surprisingly, the popularity of the cubicle farm was aided by the ability of systems furniture to house the workforce at a reasonable cost and in a relatively small footprint. The proliferation of these cubicle farms resulted in a higher density of workers. The open office again became a place where employees felt like faceless workers on an assembly line. A step backward from the ideals of Burolandschaft. A gain in privacy… a loss in collaboration.
And the beat went on. More and more cubicles. For at least 30 years. In fact, nearly 50 years later, the cubicle farm version of the open office is still with us in many office environments.
But in the 1990s something changed. In a word, technology happened. Office managers began to walk through their cubicle farms and noticed that half the cubicles were empty. It began to dawn on these managers that "my sales reps are out of the office using their iPhones or laptops to communicate with clients [teleworking, even if it was on the golf course]. Hmmm, why should I spend $3,000 on a cubicle and pay $15 for each of the 64 square feet of office space occupied by the cubicle? And, as a matter of fact, even with workers out of the office more often, sales are actually going up."
Late 1990s to Present: The New 21st Century Version of the Open Office
The rise in teleworking that was born of communication and data transmission technological advances began in the 1990s and continues to this day. It has encouraged a new perspective on how an office should function.
Today's open office has begun to mesh together the vastly different approaches to the open office developed over the past 100 years. Collaboration is balanced against privacy, productivity goes hand in hand with comfort. Private workspaces are available, as well as open and more casual spaces for meetings and group work, with the idea of giving workers the type of space needed when they need it. Some of the positive ideals of Burolandschaft returned in the 21st century office to help promote a balance of privacy and collaboration in the mobile workplace. The barrier-free office came of age, giving people a variety of places to work.
Hot-desking, borrowed from hot-bunking where submariners shared their bunks, is now commonplace in offices. Employees who only visit the office two or three times a week grab any work cubicle available in a totally open floor plan. As an example, British Telecom divided 3,000 workers among 1,300 workspaces and actively encouraged them to use a different desk every time they worked in the office.
At the beginning of this century, dot-com companies led the way in providing workers with comfortable surroundings that also support productivity, giving the employee the right type of work environment on demand. This trend has continued and can be seen in notable company offices throughout the country. Twitter offices in San Francisco feature configurable spaces for quiet, individual work or informal gatherings. Healthcare provider Kaiser Permanente's Oakland, CA, offices feature collaboration spaces, communications rooms, a café, and open workstation arrangements to boost creativity and productivity. Even government agencies are embracing the move to innovative offices with a blend of spaces that encourage telework and increased collaboration.
Perhaps our forefathers knew what they were doing when they had people working together in an open office environment. It may have been over 100 years in the making, but now the open floor plan has proved its versatility once again, this time providing more opportunities for both privacy and collaboration, when and where each is needed.
_________________________________________________________________
Our Space Utilization Model helps calculate the return on investment for organizations considering space reduction, including transitioning to an open office. Learn more about this analysis in our white paper.