My earliest memory of the home office comes from The Brady Bunch. Those of us old enough to remember this show (to be clear, I am barely old enough) will recall Mike Brady's workspace nestled into a corner of the family's den. A swing-arm lamp hovered over his drafting table, complete with architectural renderings and drawing implements. The shelter also included a loveseat, fireplace, and leather club chairs. Now that's my idea of a home office!
Despite seemingly constant interruptions from Carol and his six children (the youngest one in curls), Mike seemed to get plenty of work done in this space. As I consider the continuing evolution of the home office, I am struck by how suitable Mike's home office design would be today – 50 years later. And not just for architects but for anyone who teleworks from home.
Home is Where the Office is
Then...
In the time since The Brady Bunch first aired, the home office has gone through many changes. When the personal computer broke onto the scene in the 1980s and the Internet in the 1990s, home offices became more commonplace – but also required lots of space to accommodate the bulky monitor, CPU unit, and printer. Not to mention the fax machine. This needed a relatively large desk – the bigger, the better – and often a credenza.
The paper was king during this time, as now home office workers (and their kids!) could print to their hearts' content. And, of course, all these papers needed a place to go, thus the filing cabinet for hanging files and the bookshelf for report binders.
The look was usually capped off with an oversized swivel chair.
Functional? Yes. Homey? Not exactly. No wonder these spaces were usually shut off from the rest of the house, with the door closed after hours. All that was missing was a "Do Not Enter!" sign on the door.
And now...
I'd like you to please fast forward to 2018. Advances in technology no longer require large pieces of equipment or mounds of paper. Today's home office often requires no dedicated space at all. It may be a seat in the kitchen one day, a cozy spot in front of the fireplace another. WiFi connections, mobile hotspots, and lightweight laptops allow people to work virtually anywhere.
Even those who require a dedicated space can make do with much less in this digital age. In addition to a slim laptop, the only other pieces of equipment needed may be a sleek flat-screen monitor and a small printer for occasional print jobs. Mike Brady's simple space would suit most home office workers exceptionally well. (I could see myself working in the Brady space quite happily. And though I might update the décor just a bit, the avocado green shutters are staying.)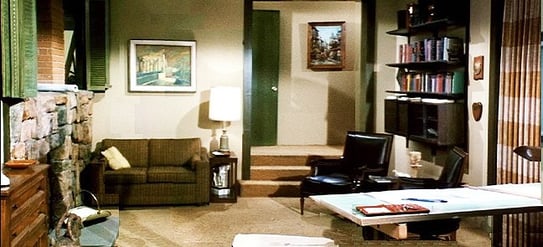 The Brady Den - Ideal Home Office?
So let's take a page from Mike Brady and consider how a home office can seamlessly blend into the home without feeling out of place or simply being an eyesore.
Home Sweet Home… Office Minimal Furniture
The first desk I purchased over 20 years ago was a bulky hulk of a piece from a local office supply store. It had built-in filing drawers and plenty of surface space for a desktop printer, corded phone, supplies, and my many stacks of papers. The accompanying chair was a massive padded leather (ok, maybe vinyl) monstrosity.
I lived with these practical furnishings until one day, I realized they were clunky and overbearing, and their space was too precious to sacrifice for such hideous pieces. So, I went on a redecorating frenzy. I started by purchasing an attractive desk with delicate, clean lines and just enough space for my laptop, external monitor and keyboard, mousepad, and a few supplies. I no longer need a desk phone, and the printer sits on the floor next to my desk. (A friend who recently visited my house said, upon seeing my office, "That's it? That's all you need to work here every day?" Yep, that's it.)
Others in my company have similarly minimalistic workspaces. My architect coworker, Ted, has a relatively small and stylish trestle desk as his primary workspace and a standing drafting table off to the side – very Mike Brady-like. For both of us, our workspaces fit into the décor of our homes and suit our personalities. And we have learned that the smaller our work area, the less clutter we accumulate!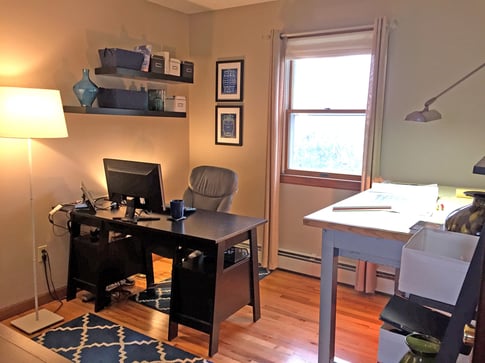 Ted's Office - Mike Brady Would Approve!
From Paper Trail to Paper-Less
I had to make one fundamental change in my work to thrive in less space. I had to release my hold on paper. I used to save all manner of sheets and scraps of paper, "just in case":
Just in case the client asked about the project two years later.
Just in case an old task resurfaces (you know – those projects that lose steam and suddenly reappear the moment you toss the paper).
Just in case those papers contained life or death pieces of information. (Note – I am not a doctor, or have the nuclear launch code. So no, those papers did not contain life or death pieces of information.)
I finally realized those papers were taking up valuable space – they should be paying me to rent! And they took up valuable space in my mind too. Clutter is not suitable for our mental health or productivity. It weighs us down and messes with our serenity.
Nowadays, we have an alternative to paper clutter. The Cloud is where we can store most of our files. Sure, I still print some things and take handwritten notes, but those are the exceptions these days, not the rule. And the bonus? With less paper, it takes much less time to clear off the desk at the end of the day – or when the company is coming.
Decorative Touches that Blend with Your Home
There are many images of stunningly decorated home offices floating around the Internet. You look at them and think, "I could LIVE in that office!" My office is NOT one of those offices, and it's not for everyone, but it's perfect for me and my family. And that's the point.
A few years ago, I painted the walls a warm mocha color, added a shag rug, installed a Moravian star chandelier, and covered the backs of the bookshelves with printed paper. I also placed baskets and other accent pieces on the bookshelves to give my office a warm and welcoming feel. The cushion on my small, non-swivel desk chair (I bought it at a consignment store) is covered in a hot pink fabric – which I glued on with my beloved hot glue gun. My office is one of my favorite rooms in the house. And a cozy spot for Chloe, my sweet cockapoo, to rest while I bring home the bacon (treats).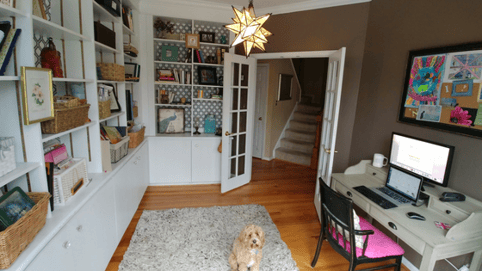 Where Chloe and I Spend 40 Hours a Week
Plants, as are children's artwork or souvenirs from travels, are another significant element of a home office. Basically – anything that connects you to the people and things you love most. In your home office design, surround yourself with things that reflect who you are and what – or who – you love.
Mood Setters
In a home office, we can set the mood for a peaceful, calming space to get our work done. Consider investing in a Bluetooth speaker so you can play mood music to boost creativity, get the juices flowing, or help you focus. You can also use candles to create a more relaxed setting and even infuse your office with scents from natural oils. Your home office is a vital part of your home and provides the opportunity to create an atmosphere conducive to productivity AND a pleasant place to be. Why not invest in small elements that make it more enjoyable? Nobody said work has to be painful!
Multi-Purpose Spaces
The best home offices blend almost seamlessly into the rest of the home. Many double as another space when not in use as a workspace. For example, my coworker LeeAnn recently moved her office to the upstairs guest room. She repainted the room, set up a folding table as her desk, covered it with a pretty tablecloth, and hung a few pictures on the freshly painted walls. She placed her new desk at a window overlooking the backyard, providing plenty of natural daylight and a peaceful view. She plans to add plants and a folding screen to separate her office area from the rest of the guest room, which contains a twin bed for sleepovers with her granddaughters. Voila! One room, two purposes.
Some offices are tucked into otherwise wasted space under stairways, hallways, or bedrooms. With a few creative touches and a commitment to keeping the space clutter-free, the workspace can add to, rather than detract from, the home's ambiance.
There's No Place Like Home
Mike Brady was undoubtedly a man ahead of his time. Now that the pendulum has swung back to simplicity in the home office, the opportunities for creating a similarly beautiful space in your home are right there, waiting at your doorstep. So you can go ahead and beautify your workspace. I have much more than a hunch you'll be glad you did!