What exactly is meant by today's concept of a flexible workplace? Most people might point to technology advancements and the need to monitor trends and adapt to the latest and greatest technologies. But is providing a flexible office really about technology? I don't necessarily think so. Or at least, I think it's just as much about space, maybe even more so. Yes, I'm an architect, so I have a slight bias. But let me explain.
For better or worse, it seems technology has enabled us to be more connected to our work. But when space is designed around the technology – which is a moving target – rather than around the way people work, spaces can quickly become obsolete. It is virtually impossible to keep up with all the technology advances of the last 10 years. What we thought was so innovative becomes outdated in a matter of years. Take videoconferencing for example. In the early 2000s, it was a must-have for the modern workplace. Designers were asked to provide great looking conference rooms with high-resolution monitors mounted to the walls with top-of-the-line equipment integrated into the phone system. They were designing for the technology, not necessarily for the individual using it. Nowadays, companies like Zoom and WebEx have provided us with the opportunity to videoconference from just about anywhere, right from our laptop or cellphone! Those conference rooms that were so important just a few years ago don't seem so important today.
As technology changes the way people work, many companies are struggling to adapt. Because we can only speculate on the future of business and social media technology, maybe we should be more focused on people's interactions (notice I didn't say "users") – not only with technology, but with each other – to provide a more functional flexible office environment.
FROM THE INSIDE OUT
By planning for the way humans interact, as opposed to a specific technology, the overall design of a flexible office can be infinitely more successful. Today's office worker does not require much space. The days of reams of paper strewn about are quickly dwindling. The incoming workforce simply doesn't function that way – they seem to have embraced a "paperless" environment. However, individuals rely upon different work environments for different tasks. A flexible office design that provides a combination of unassigned private work spaces and areas where collaboration is encouraged has gained serious momentum during the last decade. As a result, consideration needs to be given to how individuals are expected to function in each type of work space – is it an area that has to accommodate multiple technologies and fixed equipment, or is it an area where individuals will require minimal space and will utilize wireless technology and handheld devices? Of course, the technology infrastructure in the flexible office needs to be robust enough to provide adaptability for unknown future needs, but that's a topic for another blog.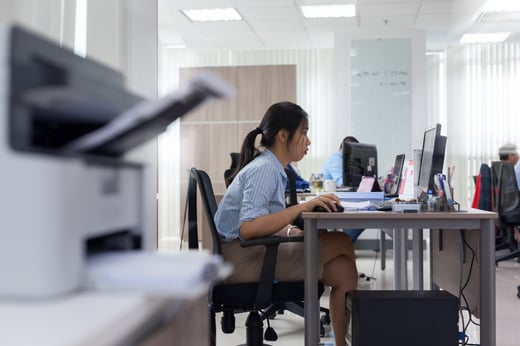 I feel strongly that employee engagement is important to determine an office's critical space needs. Once it is determined how individuals will function within a specific work space, the area can be designed based upon the staffing needs. Soon enough, "neighborhoods" within the office can be established to accommodate different kinds of work – whether it be private space, huddle rooms, or larger meeting spaces – and you are on your way to a successful flexible office plan. Strategically planning technology-supported social hubs within the flexible office as a transition space between different work environments will also lead to more personal connections within the workforce and will encourage employee interaction – the kind where great ideas are born!
FROM THE TOP DOWN
Equally important to successful flexible office design is how management adapts to the ever-changing landscape of how people use technology. The new workforce has become adept at learning new ways to utilize the hottest technology, and management needs to provide opportunities for their workers to succeed. Managers should be willing and able to utilize the flexible office to their benefit. By taking advantage of various work spaces themselves, they will not only be leading by example, but will naturally learn of new technology trends in the workplace and new ways of working effectively, and will develop a more personal connection with their employees.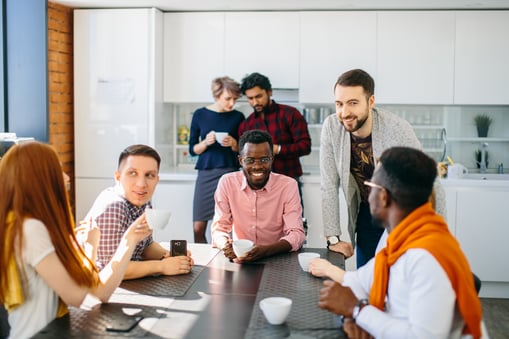 I was recently told a story of how two-thirds of a company's management team changed due to the implementation of a flexible office concept. I can't help but think this was due to the managers' unwillingness to change their habits. So get out there managers…your job might depend on it!
TRANSFORMATION
If a flexible office strategy is implemented successfully, a cultural transformation begins to emerge. As people start to utilize the space, they will realize that when given the opportunity to choose the work space that best meets their needs, they become more successful at achieving their goals. The culture of the organization will begin to move away from the notion of assigned spaces and will embrace a workplace designed for collaboration and interaction. Social spaces such as break areas outfitted with technology become workplaces where people can exchange ideas and have meaningful discussions about their work. The days of scheduling an office visit, or having a colleague pop in while they are trying to meet a deadline, start to decline as people realize the work area one chooses actually defines their intended level of privacy.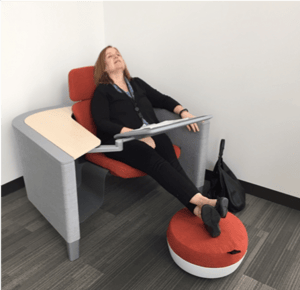 People tend to shift their focus during the day and the flexible office environment allows one to change their workplace to suit their needs. To me as an architect and as a person - not a machine - that flexibility is an important thing to consider when planning a new office design.