What is the agile workplace? Is it just another business buzzword (or "buzzphrase") destined to drift off into the land of once-used buzzwords, along with value-added, paradigm shift, wheelhouse, stovepipe, bandwidth, incentivize, mousetrap, scope creep, and "content is king?" Maybe. But I would like to suggest that the agility concept is here to stay and that the rapid pace of change today demands it. When we "peel back the layers" (oh, there's another one!), I think there is depth and significance to what this particular buzzword conveys - no matter how the label may morph over the years. Workplace agility is more than business babble. It is a response to an ever-changing world and a business landscape that must embrace and keep up with change. So let's take a bit of a deep dive (there, I did it again!) into the concept of the agile workplace to consider what it's really all about – labels aside.
But First, What is Agility?
Agility is defined by the Oxford Dictionary as the "ability to move quickly and easily." As a new fitness instructor and personal trainer, I am excited to teach agility in physical motion – this can be defined as the "ability to move and change direction and position of the body quickly and effectively while under control." When you are physically agile, you are responding to what's going on around you, and positioning yourself to take the next action effectively. This requires quick reflexes, coordination, balance, speed, and correct response to the changing situation. This also requires training and a concerted effort. Can the same not be said of the need to remain agile in the workplace?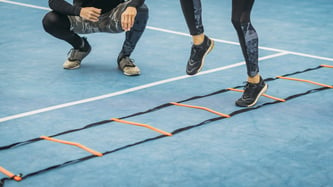 So what has changed in the business landscape to require such agility today? Actually, I'm not sure much has really changed at all in terms of the need for constant evolution and adaptability. That's been with us since the beginning of time. But I don't think we can argue that the pace of technological change today has ushered in a whole new way of thinking and doing business. Organizations that are ready to respond adeptly, adroitly…agilely (yes it's a word)…to changing demands are much better positioned to take the next action effectively. Sound familiar?
Agile Work Practices
The term "agility" in a business setting has come to be largely associated with software and project management practices. In its most basic terms, agility in software development is an iterative approach where requirements and solutions evolve through a collaborative effort. Agility in project management is characterized by the division of tasks into short phases of work and frequent reassessment and adaptation of plans. The foundation of agile methodologies is rooted in best practices geared towards enabling "collaborative environments where diverse teams can continuously learn, improve, grow, and produce." Sounds like a smart way of doing business, doesn't it? And shouldn't the workspace be designed in a way that best supports these work practices? Shouldn't the workspace also be agile?
Agility in Office Space
Let's consider how the need for agility has affected the physical workspace of the past 20 or so years. The standard office setting of the 1900s included largely sterile environments with fixed walls, a hierarchical mix of private offices and designated cubicles, plenty of storage space, and very little space for collaboration. Technology and organizational theory were developing, but paper was king and most work was accomplished in a fixed setting, face-to-face. Fast forward to 2019, and technology is changing rapidly – sometimes every day – and has changed the way people work. Workers, in turn, have adapted to the technology. Workspaces must do the same.
As a result, today's workplace is much more flexible, with a wide variety of spaces designed to accommodate different work practices, encourage creativity, support technological advancements, and increase collaboration. We now see fewer private offices and a mix of collaborative work areas and designated focus areas, with more natural daylight and vibrant aesthetics. There are huddle rooms, phone booths, getaway booths, quiet rooms, brainstorm rooms – you name it. This new workplace offers opportunities to select a work environment best suited to the task at hand, or to the personality. These more flexible workspaces not only support innovations in technology and mobile work arrangements, but they also provide a healthier work-life balance and offer the greatest return on investment for every square foot occupied.
Any organization undergoing a space move or reconfiguration today has almost limitless possibilities to transition to what we call an "agile workplace" – one that is flexible and responsive to a variety of different work practices and styles, as well as to ever-evolving technologies and more modern ways of doing business. This ultimately helps the organization save money, and in the case of local, state, or federal government agencies - tax dollars.
Many agencies and organizations are transitioning to agile offices either by renovating existing space (and generally reducing the total space footprint in the process) or by moving to new locations. Offices may be moved to a different floor in the same building, across town, or many miles away - even to a different state. Often, multiple dispersed offices take the place of one centralized office. I firmly believe that space, technology, and change management must come together at the beginning and throughout the duration of a space transformation project to ensure a successful transition to the new space. Which brings me to my next point – change management.
Change Management for the Agile Office
I don't think any discussion of the agile workplace is complete without a discussion of change management and the people who will be working in the space. After all, perhaps the most critical element of the agile office is its people. No two people are the same – we perform different tasks, approach work differently, and have different personalities. We need space and technology arrangements that accommodate these differences. Today's knowledge workers thrive on meaningful and challenging careers. They are focused on wellness, not just in their free time but in the workplace too. They want the respect and appreciation that comes with the responsibility, contributions, and innovation they are performing in the workplace. They also want to have a voice and to be heard.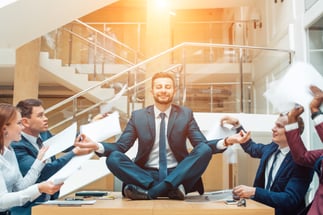 Human Resource Management (HRM) is adapting to help people thrive in agile work environments. In doing so, HRM is developing practices to identify talent that fits the culture, to promote smooth onboarding, and to retain talented employees through continuous engagement, decentralized decision-making, ongoing learning and career development, a focus on wellness, and regular recognition for a job well done.
People, technology, and space must be thoughtfully and strategically aligned in the agile workplace. Renovating or moving an office has an impact that goes far beyond the space. As we plan and design our offices, the offices, in turn, shape the way we work and interact. At the same time, people shape the way work is done.
Agile Offices Must be Carefully Planned
The move to an agile work environment involves a comprehensive planning effort that includes a thorough analysis of the culture and mission of an organization. The analysis is intended to help provide a clear understanding of employee and organizational needs, and to provide the design, technology, and change management support necessary to ensure that the transition to the new workspace is a success.
Such a task is certainly monumental and may include visioning, SWOT analysis, work style surveys, gap analysis, focus groups, change readiness assessments, benchmarking, scorecards, etc. The change must be managed holistically – i.e., through a process model that incorporates organizational culture, business strategies, HRM, technology, and space – and that guides the change through a series of carefully orchestrated steps to promote employee engagement and to generate buy-in and support from the top down. When employees feel connected, valued, and appreciated, and when the organization's policies, practices, and space closely align with the organization's mission, the result will be enhanced performance and productivity and a place where individuals not only work, but thrive.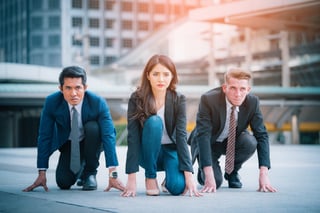 While we may have an inkling as to some of the changes on the horizon technology-wise, we don't have a crystal ball to see all of the technology and other changes that could lie ahead. We can map, plan, align, and execute all day long, but the truth is that we must remain poised to respond to change. Having a well thought-out plan that allows for agility in space, technology, and change management will put you well on your way to developing the quick reflexes, coordination, balance, speed, and appropriate response that are needed. Sort of like a…workplace agility ninja? #newbuzzphrase Remember you heard it here first!
_____________________________________________________________________________________
Click on the image below to learn how work styles influence agile workplace design: