The past three months have been quite a roller coaster for businesses and organizations trying to navigate social distancing guidelines and stay-at-home mandates while figuring out how to work remotely. Fortunately, modern technology makes teleworking easier, or at least less painful (who would have thought that Zoom would become a staple of our daily jargon!).
Now, as some of the initial restrictions have been lifted, many organizations face the challenge of reopening their physical offices. This is no simple task as it involves both reorganizing space to keep employees safe and figuring out how to incorporate telework into the new way of doing business. Fortunately, the increase in telework in recent years has led to a wide range of options for a flexible workspace.
Following are descriptions of office settings that support partial telework and increased mobility in the office environment. Becoming familiar with these terms may be helpful if you are thinking about redesigning your office space for the post-pandemic environment. Additional considerations to accommodate social distancing are also provided.
Open Workstations
Open workstations are one of the hallmarks of a flexible workspace. Once referred to as office cubicles, the modern workstations are groupings of individual desks and work areas separated by partitions, bookcases, or file/storage units. They are open and transparent and are designed to allow natural light to flood the space. Lower panels allow individuals to collaborate with others in nearby areas, while also offering visual privacy. Built-in seating on the tops of smaller storage units allow for impromptu collaboration, while additional work surfaces, such as small tables between two open workstations, can be used for quick, small-group meetings. Open workstations can be permanently assigned to employees or left open for teleworkers to use when they are in the office.
Social distancing alterations: install higher plexiglass partitions for more separation between open workstations. Clear plexiglass provides open views while frosted plexiglass provides increased privacy, but both allow natural light into the space.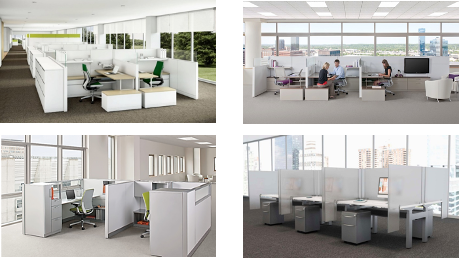 Touchdown Areas
Similar to open workstations, touchdown areas are smaller workspaces with a small work surface and chair. They are ideal for teleworkers or visitors who need a place to work when they are in the office but do not need permanent storage or a large work surface. Touchdown areas can be clustered with multiple seats in one area (like a large table with four to six work surfaces on either side). They can also be individually dispersed throughout the office.
Social distancing alterations: install plexiglass partitions for separation between spaces where multiple touchdown areas are located together. Separate individual touchdown areas throughout the office to offer small, temporary workspaces that are distanced from others. Implement enhanced sanitation procedures to ensure the cleanliness of work surfaces, furnishings, and equipment.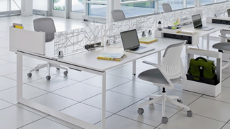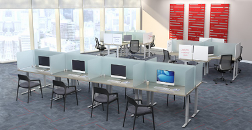 Getaway Booths
Getaway booths are small enclosed alcoves for one or two individuals. They provide space for focused work or for tasks that require confidentiality, and are typically equipped with a desk or table and one or two chairs. In a flexible workplace environment, getaway booths are often limited to short periods of time (e.g., one to two hours), and may be used either on an impromptu basis or via a reservation system.
Social distancing alterations: because they are designed to be used by only one or two individuals, getaway booths are ideally suited for social distancing. However, organizations can opt to remove an extra chair to limit the space to just one person. Getaway booths could even be assigned to employees for an entire day to increase social distancing in the office.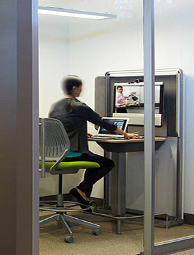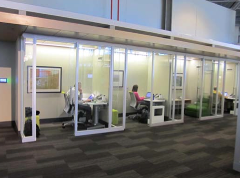 Huddle Rooms
An integral part of a flexible workplace, huddle rooms are flexible meeting spaces for small groups of employees – typically two to five individuals. They can be open or enclosed and are generally equipped with whiteboards, screens for video conferences, conference phones, and other technologies, as well as chairs and a table or work surface.
Social distancing alterations: consider repurposing the huddle rooms as private, individual work areas for one person, rather than teams, to limit exposure to others. If this isn't possible, reduce the number of chairs to keep gatherings to two or three individuals.
In addition to the spaces described above, there are several other concepts that could help as you consider bringing employees back to the office.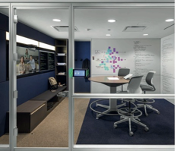 Hoteling – the practice of providing shared spaces to employees on an as-needed basis rather than the traditional method of permanently assigning one space to each employee. This concept is integral to flexible workspaces and partial telework. When hoteling is used in conjunction with the space types described above, organizations can provide their employees with the flexibility needed within a physical office. In other words, employees are no longer tied to a permanent office but have the option of working at different spaces depending on their individual need when they are in the office. With increased social distancing, hoteling has the added benefit of allowing employees to select their work area for the day or part of the day to maintain an appropriate space between individuals. As noted above, enhanced sanitation procedures to ensure the cleanliness of work surfaces, furnishings, and equipment is critical when introducing hoteling.
Reservation systems – reservation/room booking systems are great ways to help part-time teleworkers schedule the space they need when they are in the office. Employees can reserve the use of a specific dedicated workspace prior to coming into the office. Reservation systems can also be used to book shared spaces for a shorter period of time (such as a getaway booth for a private phone call during the work day).
Utilization rate – the utilization rate is simply the total usable office space (square feet) divided by the number of employees in an organization. A lower utilization rate typically denotes more efficiently used space. Lower utilization rates may also result in financial savings. Finding the appropriate utilization rate in a time of social distancing requires a careful and creative evaluation of existing space and design options.
As organizations begin to develop plans for a socially distanced return to the physical office, telework – at least partial telework – should help reduce the demand on office space and provide some flexibility in office design. The challenge is to find the sweet spot in designing an efficient office environment that is responsive to social distancing guidelines.