Let's face it – these are unsettling times. Our lives and daily routines have been completely upended by the Coronavirus pandemic. Depending on where you live, you may not be able to go to a mall, the movies, a restaurant, or even a friend's house. Your kids are home from school. You may need to cancel a special occasion or vacation. You may have run out of – you guessed it – toilet paper. The indignity of it all. (Fortunately, the liquor stores in Maryland are still well stocked. Let's say a collective prayer that's a nationwide trend that holds steady.)
During these trying times, you may find yourself teleworking from home full time for the first time. WITH your kids. You may be wondering how in the world you are ever going to pull this off. Deep breaths. We're all in this together. I've worked from a home office for the past 15 years, and although my company requires us to have childcare during work hours under normal circumstances, I have dealt with my fair share of snow days and sick days over the years. Since I have lots of experience juggling working at home and child-related responsibilities, I thought I would share a few pointers with you as you are getting your feet wet.
Maintain a schedule. As a parent, you already know the importance of maintaining a schedule your kids can depend on. A daily routine creates a sense of security for children. It's especially important to establish daily schedules for both you and your kids while the normal routines have been disrupted, and you are trying to get work done at home. I sit down with my kids each night to develop a schedule for the next day. Schoolwork, exercise, outdoor time, the arts (instruments, painting, drawing, etc.) and a cleaning/organizing project are part of their daily schedules. (I must say that one week into this I have an impressive Goodwill pile!) While your kids are engaged in their activities throughout the day, you can focus on your work.
Of course, the ages and maturity of your kids will play a role in determining how independent they can be. But a well-thought-out schedule should provide you with chunks of time to focus on work, while making sure your kids' needs are met. Make sure your kids have something to keep them occupied when you really need to focus, but also build in some time for breaks. I've been taking breaks throughout the day between deadlines, calls, and videoconferences to have lunch with my kids, quiz them on schoolwork, do workout videos together, pump bicycle tires, and throw the lacrosse ball around. So far, this arrangement is working well. If we're still here by summer, you may want to check back with me…
Tap into your community network. Although many of us have varying levels of comfort coming into contact with other people during this pandemic, most people I've spoken to feel comfortable spending time with others outdoors. If there is a silver lining to this Coronavirus mess, it's that it happened at a time when many of us can get outside. Imagine what an outbreak in January would have been like! This is a great time to line up outdoor time for your kids – and for yourself, really – with friends and family. (Of course, be sure to stick to social distancing guidelines even when you're outside.) My kids have met their grandparents at the neighborhood dog park. One of my daughters went for a bike ride with her friend's family while I was working. I organized a neighborhood walk with some friends and their kids after work so we could remain connected and get a little fresh air.
Parents can take turns supervising each other's kids outdoors while others remain at home working. I'm communicating with other parents who are teleworking to brainstorm about ways our kids can stay connected and interact without being in each other's homes. One of my daughters is continuing her piano lessons but doing them over FaceTime rather than in person. Be there for your neighbors and I would venture to say they'll be there for you. Tapping into your community network will help you remain productive, while also keeping your mental health intact. We are all navigating uncharted waters during this time. What better time to come together?
Identify quiet space for a home office. As an employee, it is your responsibility to identify a quiet space in your home that provides privacy and is furnished in a way that allows you to work comfortably and productively. A room where you can close the door and maintain the sensitivity of company information is ideal, and possibly even required. Having this space will allow you to concentrate on heads-down work and conduct calls with limited interruptions. After all, no one wants the scene below to unfold while you're on a videoconference.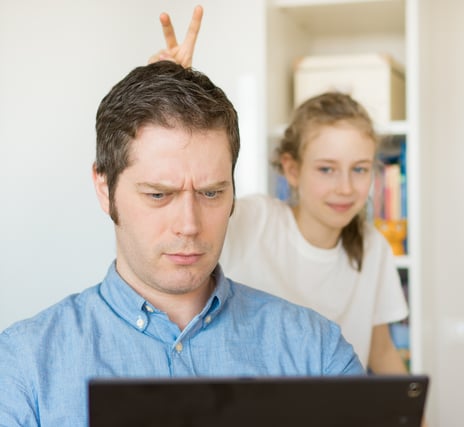 Work during off hours. I think we can all agree that even if you decide to take my suggestions, it will be difficult to get a full day's work in during normal business hours while your kids are home. Be prepared to squeeze in some work during off hours, such as before your kids wake up or after they go to bed. Or set them up with a movie in the evening so that you can tie up loose ends from your work day. Hopefully your employer will be a bit flexible with your schedule during these trying times.
While teleworking with your kids at home is arguably not an ideal situation, it can be manageable with a bit of planning and self-care. Together we can get through this – or anything, really. My hope is that these tips will help set you up for success, not just during the Coronavirus craze, but if you telework again in the future. If you would like more information, please contact us at (888) 387-7655, or at inquiry@fentress.com, for a complementary phone consultation.