Many offices are reopening their doors and welcoming employees back into the office, either full-time or part-time. After working from home for 18+ months due to the COVID-19 pandemic, returning to the workplace can be a shock to the system. Even those who crave in-person interaction may find that trading fuzzy slippers for high heels and the comfort of home for the stress of highway traffic is a bit unnerving. What can you as a manager do to help ease your employees' transition back into the workplace? Here are five change management tips to make the return to the "new normal" a smoother one.
Recognize the Success and Lure of Telework
First, I think it's important to recognize that although telework may initially have been a response to COVID, most people adapted well to life in the home office and were able to fulfill their job duties quite well. And, they grew to enjoy it. Sure, there was an adjustment period, especially for those organizations and employees who were new to telework. But overall, most organizations and employees remained productive, even with a dispersed workforce.
So, as you begin to bring people back into the office, you might hear rumblings of "If it ain't broke, don't fix it" – with proper grammar, of course.
Don't get me wrong – I understand that there may be many good reasons to have your employees working on site, whether it's part time or full time. But it's important to recognize that the telework landscape has changed. Not only have organizations and employees figured out the technology and work practices to be efficient, but employees have grown used to not commuting and to being in the comfort of their homes during the workday. Parents are more accessible to their kids. Pets can be walked during the day. Packages can be received. Repairmen can be let in. For many people, these perks are priceless. Taking them away can feel like losing a cherished privilege.
As an important caveat, if any of your employees have not transitioned well to telework, this needs to be addressed. But I don't think an entire office should be painted with one brushstroke. For those employees who thrived in the home office, it's important to recognize their contributions every bit as much as before the pandemic. Performance should be managed by results, not by whereabouts.
Having an appreciation of the success and appeal of telework will go a long way in helping you keep a positive tone with your employees as you ease them back into the office, which brings me to my next point.
Plan the Return with Great Care
Reopening the office isn't as simple as broadcasting a "return to work" date and unlocking the front door. Employees will need to know what to expect upon their return, and they should be given ample time to process the timeframe, new requirements, etc. Some employees will have practical considerations to attend to, such as arranging for child or pet care, or adding commuting costs back into their budget. Most employees have grown accustomed to a different schedule, where perhaps they can stay up later and get up later, or squeeze a workout in before work. This may change when they return to the office. Perhaps they need a new wardrobe (after all, more than one-third of people gained weight during the pandemic)! This last example is said somewhat lightheartedly, but the point is real. These are human beings we're talking about, and they have individual needs. Recognize that the transition will present challenges for many, and ease them back in gently.
Be sure your return-to-work strategy includes the following elements:
Who is eligible/not eligible for telework - if this is determined on a case-by-case basis, include a statement to this effect and describe some of the factors considered, such as job duties and manager input
Timing and scope of the return – will there be a phased-in approach? Will days in the office be staggered?
Expectations and requirements – address any changes to company policies that were in place prior to the pandemic - schedules, reporting relationships, internal and external communication, performance standards, and technology
Your organization's strategy should be approved by HR and/or legal counsel to ensure that it contains no discriminatory language or policies. It should be communicated clearly and frequently to employees so that there are no surprises. It should also include a clear vision statement that describes a future which draws people in and makes the change compelling, powerful, and motivating.
Expect and Manage the Resistance
Even with a clear strategy in place, employees may resist. Remember – fuzzy slippers, and Fido nestled under the desk. We are creatures of habit…and comfort. Resistance is normal and is to be expected. And there will likely be resistance both before and after the return. When we begin to experience a change, it can feel like we are pushing a boulder up a mountain – it's overwhelming and requires great effort against resisting forces.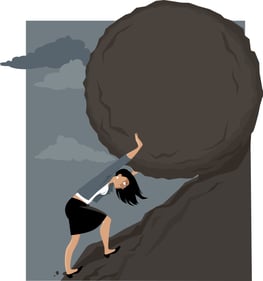 Don't be startled or frustrated by this resistance. Instead, anticipate it, and try to provide a forum for employees to express their concerns openly. It's far better to draw out the resistance and to address it thoughtfully than it is to have employees feel stifled or unheard, in which case they may channel their resistance into something less productive.
It's interesting to note here that many people desire autonomy above all else. Working from home likely provided more autonomy, and for your high producers, this was a good thing. Try to find a way for them to maintain some of that autonomy. They didn't let you down during COVID, and they're not likely to let you down now, either.
Make the Return Employee-Centered
One of the most important things to keep in mind is that people are more likely to embrace the change when they see how the change will benefit them. Help employees focus on what they are gaining rather than what they are giving up. Keep the lines of communication open. And above all, model the desired change. Be sure not to grumble about it, and be sure to follow all the policies outlined in the strategy.
Also, make the workplace a place employees want to return to. COVID has brought many concerns about cleanliness and germs to the forefront. It has also redefined where and how work can be done. Make the office clean, inviting, safe, and comfortable. Listen and respond to employee concerns about sanitation procedures and COVID protocol. While not everyone's wishes can necessarily be granted, try to be mindful of the differing opinions.
Do everything you can to provide an environment that is warm and welcoming rather than cold and sterile. Is it possible that the dress code can be relaxed a bit? Is there a comfortable place for employees to take breaks away from their desk? Can the décor of the office be updated to make it more energizing? Your office may not provide quite the same creature comforts as a home office, but there's no reason it can't be a pleasant environment for getting work done. By promoting a positive employee experience, the organization benefits too.
Remain Open to Change as an Organization
And finally, at the same time the organization is asking employees to adapt, it's important for the organization to continuously adapt and evolve as well. Change is cyclical. Organizations must go through the process of recognizing what no longer serves the organization, shedding old practices, implementing change, and making that change stick. This process is rarely linear. There are ups and downs, setbacks, false starts, objections, you name it. What matters is that the organization is not dragging old ways of operating forward just because it's all the organization has ever known – those standard operating procedures. As you bring employees back into the office, remain open to how the organization may need to evolve to adapt to this new normal. Not only will the organization be better positioned to prepare for the challenges that lie ahead, but the organization will be modeling a receptive attitude towards change.
Lessons Learned from COVID
COVID may have thrown us all a curveball, but it also showed us that with some creativity and determination, there are always solutions. The world may have been locked down for a while, but ingenuity and adaptability prevailed. Keep this ingenuity and adaptability front and center as you manage the return to the workplace. If not even a global pandemic could sideline your organization, nothing can.