As a child growing up on a farm in a small rural area, I was very limited when it came to being around my friends and other peers. I lived almost a mile away from the nearest road, which meant no neighbors, no spontaneous bike riding with friends through the neighborhood, and no last-minute visitors or sleepovers.
Some of my first memories of bonding with friends are from those early days riding the school bus. In a world before technology, COVID-19, and widespread school security concerns, it was never a second thought for an elementary-aged child to ride a school bus with a trusted, tenured bus driver. Nowadays, however, school bus safety and bus driver retention are a constant news story leading many parents, including myself, to wonder…what we can do to ensure our child's safety while on the school bus?


School Bus Drivers and Crisis Preparedness
It's common for parents to have concerns about their child's safety getting to and from school, whether it's on a school bus or in a passenger vehicle. Regarding bus safety, parents are concerned about driver skills and experience, the enforcement of rules and expectations, bullying prevention, and their child's safety getting on and off the bus. However, over time, more and more questions have arisen regarding not only how safe a bus is but how secure it is.
With security at schools being at the forefront of our minds, does this same security extend to the school bus? Are bus drivers qualified to help prevent or address a crisis? Bus drivers may face the same types of emergencies and threats that can occur on a school campus. Knowing that if a threatening (or even a medical) emergency arises, the bus driver is equipped to handle the situation is essential.
The good news is that school bus drivers are typically required to undergo background checks and extensive training before driving a bus. In most districts, this includes ways to handle emergencies. Bret Brooks, chief operating officer and senior consultant for Gray Ram Tactical presents on school bus security and focuses on the nationwide increase in violent issues, even amid the COVID-19 pandemic. He explains the importance of engaging in training exercises to prepare drivers to act in a crisis.
Bus drivers are often the first face a child sees after leaving their house to go to school. Familiarity grows the longer a bus driver drives a specific route, and a bus driver must be trained in recognizing behavioral changes and potential warning signs in students. Such intuition can prevent potentially dangerous incidents, such as a student boarding the bus with a weapon – particularly a gun. Student-borne weapons can be used in conjunction with bullying or fights with other students or an assault on the driver, either in a premeditated fashion or as a result of disciplinary actions or other triggers. Undetected weapons on buses will likely reach school grounds, where they could be used with destructive and deadly consequences.
Many resources are available to school districts and bus drivers for professional development training. National School Safety and Security Services has over 20 years of experience supporting school transportation officials in increasing staff awareness of school bus safety, security, and emergency planning.
The National Association of State Director of Pupil Transportation Services (NASDPTS) also offers training in multiple operations and a guideline manual for emergency management. According to School Transportation News, NASDPTS has called for all school bus driver training to include, but not be limited to, training on personal safety, parental custody issues, property crimes (vandalism, theft), violent crimes (hijackings, possession of dangerous materials or weapons, assault), inappropriate behavior (roughhousing and other physical interactions between students), and illegally possessed substances, such as drugs or alcohol.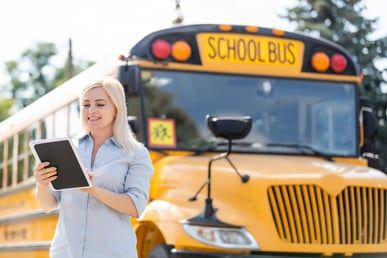 Let's Keep Our Bus Drivers Fully Trained
The Bus Driver Shortage and its Impact on Security
Across the country, approximately 25 million students rely on school buses to get to school. But right now, the wheels on the bus are not going round and round. The lack of bus drivers across the nation is a crisis impacting many parents' daily logistics and the ability of many school districts to serve the needs of families without proper transportation. This shortage may also be compromising the safety and security of our children. Factors contributing to the rise of violence on school buses include the severe driver shortage, which may cause less qualified individuals to be hired, and the increase in fuel prices, which may cut into training budgets.
In a recent national survey, approximately 81% of districts reported needing more school bus drivers to fill their needs. More than half of surveyed districts categorized this shortage as severe or desperate. To become a bus driver, a commercial driver's license with an "S" – or school bus endorsement, which ensures that the driver has the necessary skills to operate a school bus – is required. A "P" – or passenger endorsement allowing a driver to transport passengers on a school bus – is also needed. While the cost and time to obtain such driver endorsements can seem tedious, it is a necessary step towards qualification. It must remain mandatory in the hiring process, even in desperate times.
Some school districts are working on ways to address the shortage and qualification time restraints, such as waiving the 14-day waiting period between taking the written and driver's test for individuals attempting to earn their CDL license. While some measures to attract and retain bus drivers are acceptable (e.g., waived or shortened waiting periods, increased salaries, route consolidation), school districts must stay vigilant when adequately vetting new drivers.
During a school day, a bus driver can be responsible for nearly 60 or more children during commuting hours. That is a lot of precious cargo in one person's hands. Background checks, knowledge tests, random drug and alcohol testing, and practice driving hours with an experienced driver are some vetting requirements that should not be bypassed, even in a shortage crisis.
How Parents Can Get Involved
Bus drivers have a tremendous responsibility in transporting our children to school safely. We would all agree that their primary job should be road safety (monitoring traffic, road conditions, and other road hazards), not student oversight and discipline. We want their eyes on the road, not in the rear-view mirror.
While it might be tempting to suggest that parents could be directly involved, perhaps by signing up to volunteer as a "bus aide," volunteers or other paid employees would be subject to the same background checks and training procedures as the driver. While this may be a trend in the future, current attempts are focused on solving the primary need of employing and retaining qualified, fully trained bus drivers.
Ensuring your child's safety on the school bus is very similar to ensuring their safety in school and on the internet and social media. First and foremost, communicate. Do not assume your child automatically knows and understands the bus rules.
As parents, we need to remind our children that disruptions on a bus can cause accidents. Talk to your child about potentially dangerous behaviors, such as putting their head or arms out of the window, talking loudly to other children, or standing up. At the same time, the bus is in motion, playing loud music or arguing with a fellow student or the bus driver.
Bus drivers deserve and appreciate even the simplest acts of kindness. Parents – it's up to us to instill behaviors that demonstrate gratitude and respect. I am grateful every time I see my middle school-aged stepson walk safely off the bus, and I need to teach him the same level of gratitude. When we all come together to model and reinforce respectful behavior, we help create a safer and more secure environment, even on the school bus.